The Moray Burial Ground Research Group

Request Free Quote for full MI Transcripts/Photos or Publications
Birnie Churchyard - May 2006
MBGRG TOMBSTONE AND BURIAL GROUND RESEARCH AND CONSERVATION PROGRAMME
IN CONJUNCTION WITH THE COUNCIL FOR SCOTTISH ARCHAEOLOGY AND HISTORIC SCOTLAND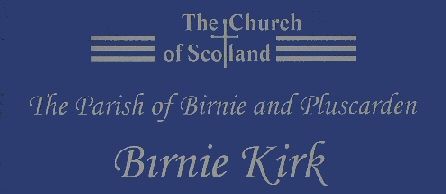 Much preliminary investigative work has already been undertaken at Birnie Churchyard by the Moray Burial Ground Research Group, but following detailed consultation with, and approval from Historic Scotland, work on recording the many buried tombstones commenced on 13th May 2006.
Work on the site is expected to take many months. Due to the considerable importance of this unique historic site, in addition to the recognised methodology, additional procedures are being adopted to ensure that all information relevant to a variety of additional scientific disciplines is accurately and adequately recorded. All soil material, necessarily removed to expose buried stones, is being sieved and checked for archaeological artifacts, before being replaced. Procedures are in place to pass any such relevant finds, to the appropriate authorities.
The Group were delighted that the Rev. J. M. Woods BTh., Minister of Birnie Kirk, was able to spare some time from her very busy schedule, both to welcome members, and see the first buried stone uncovered.
This first stone proved to be of particular significance, as it related to a former minister at Birnie, and though being referred to in the old Kirk Session Minutes of 1658, was in more recent times regarded as 'lost'. Originally standing as a pillared gravestone, in a position facing the choir-door, it at some time became damaged, and was repaired using two iron clasps, and then lain flat. The lower clasp still remains.
Being buried, has been a great benefit in terms of preservation, and much of the inscription is still clearly visible.
Transcript: (Based on stone and Kirk Session record)

HERE LIETH THE BODY [OF MR ALEX] SPENS MINISTER OF THIS PLACE WHO DEPARTED THIS LIFE 15 OF APRILE 1658 AGED [54] AND HIS WIFE [MAR]GARET I[NNES] WHO DEPARTED ??TH DAY OF ------- AE

Work in progress .........
13th April 2006.